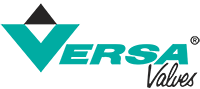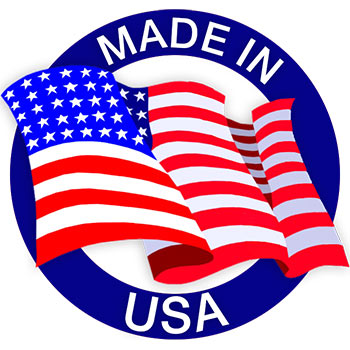 ***ITEM SHIPS IN 2 WEEKS***
This Gate Valve manufactured by Versa Valves (SKU: VXX-4523-U-359-D012) is a reliable and safe solution for bottom dump trailers. This solenoid enabled valve allows for remote operation of the bottom dump gates, but also incorporates a manual handle for those that prefer a manual method. This Solenoid-Pilot Spring Centering gate valve also utilizes the infinite control feature using the ez adapter and has a four-way pneumatic functional type. Choose Versa gate valves for all your commercial and construction bottom dump trailer needs. Order today!
This Versa Gate Valve will allow you to operate your bottom dump gate either manually or remotely using electric solenoid technology. Combine with an ez adapter, this v-series valve is capable of infinite control of your trailer's gate movement. It allows the bottom dump gate to be jogged incrementally when opening and has a four-way structure for optimal manipulation. It also has ½" NPT ports that allow for easy installation and consistency with existing systems as well. Purchase this replacement gate valve with confidence knowing it's durability and reliability is proven and guaranteed by the well-known manufacturer, Versa Vales. Don't forget to shop other valves or gate parts from our website to order every type of part you need for your trailer maintenance.
Part Specifications:
V-Series Valve part
Pneumatic functionality
Solenoid-Pilot Spring Centering
Four-Way
1/2" Body Size
Sideported-Internal Pilot
Three Position
Center: All Ports Blocked

***REMINDER THAT ITEM SHIPS IN 2 WEEKS***

Manufacturer's Warranty: Versa's Series products are warranted to be free from defective material and workmanship for a period of ten years from the date of manufacture, provided said products are used in accordance with Versa specifications. Versa's liability pursuant to that warranty is limited to the replacement of the Versa product proved to be defective provided the allegedly defective product is returned to Versa or its authorized distributor. Versa provides no other warranties, expressed or implied, except as stated above. There are no implied warranties of merchantability or fitness for a particular purpose. Versa's liability for breach of warranty as herein stated is the only and exclusive remedy and in no event shall Versa be responsible or liable for incidental or consequential damages.
More Information

| | |
| --- | --- |
| Box Size | 14"x6"x4" |
| Country of Origin | USA |
| Finish | Matte |
| Material | Brass/Aluminum |
| Package Quantity | 1 |
| Connections | 1/2" NPT |
| Duty | x2 12V Continuous duty coil |
| Flow C | N/A |
| Flow Rating | N/A |
| Function | This valve is commonly used on the Ranco bottom dumps to operate the gates. |
| Operating Temperature Range | N/A |
| Operation | It has a manual handle function as well as a solenoid to activate the valve via a switch in the cab for remote dump operation. Uses solenoids for remote operation (2) for infinite control |
| Power | 12V DC |
| Pressure | 150-200 PSI |
| Product Line | Versa Valves |
| Replacement Parts | P-1002-02-D012 (NEW COIL) |
| Voltage | 12V |
Trouble Free Series "V" Bottom Dump Control Valves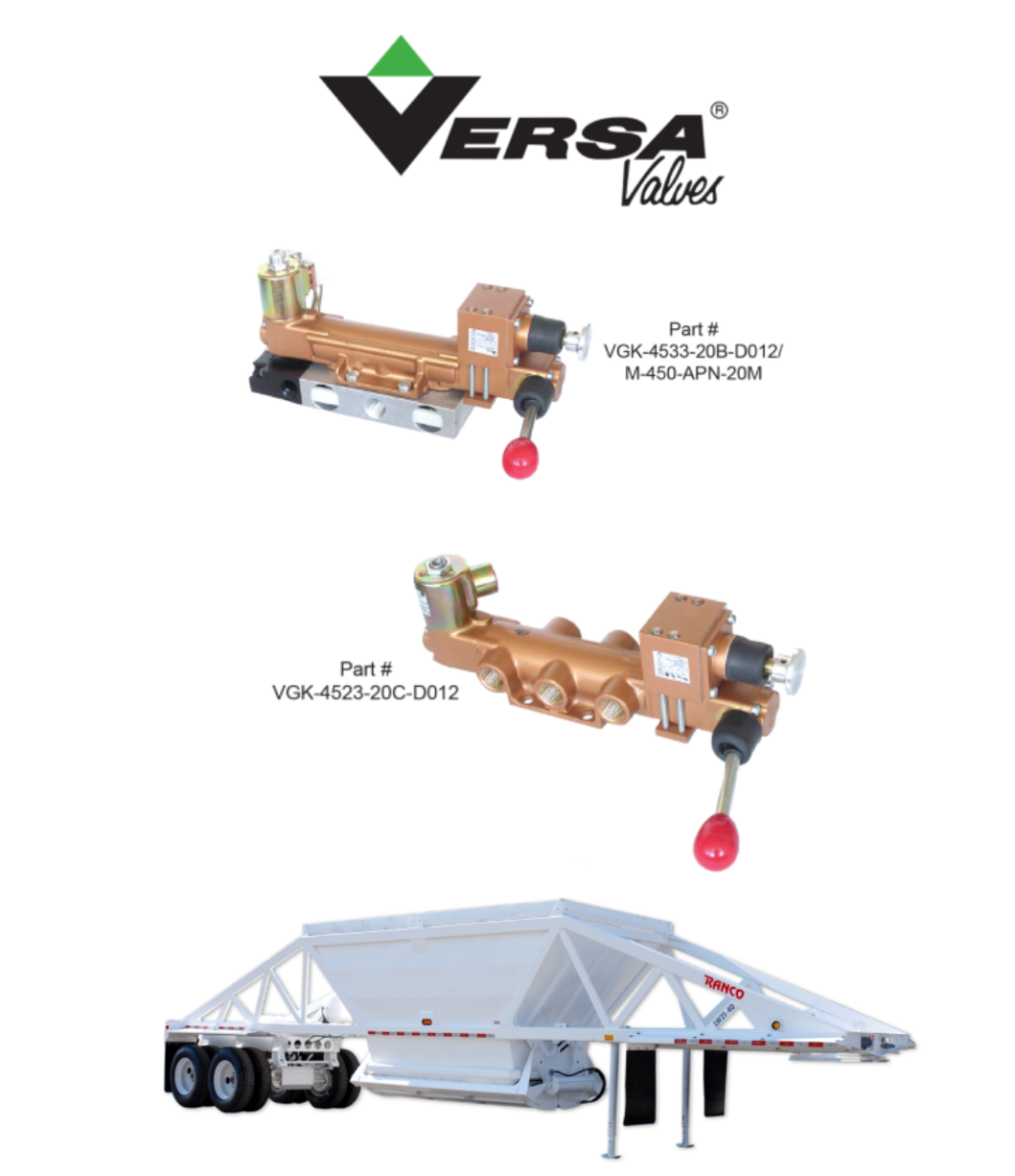 Trouble free for years despite exposure to heat, cold, dirt and vibration. Used as a "Bottom dump" valve for hopper control on bottom dump trailers or railroad coal cars.
Standard "Bottom Dump" operation provides both 2 position solenoid control and 3 position manual control in one valve.
1/2 inch NPT full flow construction.
Bubble-tight seals provide leak free service for "creep free" hopper control.
Withstands impact with thick walled forged brass construction. 'i Part # * VGK-4533-20B-D012/
Prevents contamination from dirt and sand M-450-APN-20M with Versa proven dust proof option keeping solenoid and main valve free from clogging.
Solenoid actuators utilize 'solenoid-pilot" design, no coil burn-out due to valve hang up.
Main spring is "air spring," no mechanical spring to break or fail.
Use of "solenoid-pilot" and "air spring" Part # a assure positive shift every time! Quick removal of valve with plug-in solenoid option. Standard '0' ring seals make repair easy! 
•  Economical space saving "in line" version available.
100% factory tested at ISO 9001 certified facility.
Supported by established worldwide distributor network.
PARTS, SERVICE, & PROFESSIONAL INSTALLATION
1490 South 400 West Salt Lake City, UT. 84115 |  www.westerntruck.com
866-416-8193

We found other products you might like!