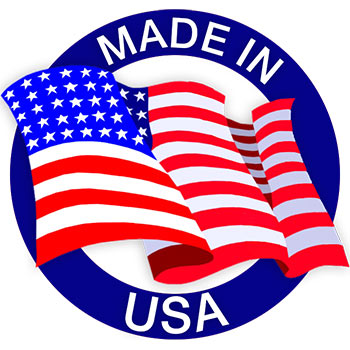 The Quick Exhaust Valve (SKU: EV25A2), manufactured by Deltrol Fluid Products, ensures the fast and controlled release of exhaust air within your commercial trailer's cylinders. This simple part eliminates the need for larger selector valves so you can manage the exhaust air in your pneumatic system. With this quick exhaust valve, instead of needing that larger type of system, you can rest easy knowing this one-way air release valve will ensure your pneumatic system is always firing at the right pressure levels. Don't let your exhaust air clog up your pneumatic system, but instead install this Deltrol quick exhaust valve to ensure rapid expulsion of your trailer's exhaust. Don't forget to confirm this valve SKU fits your particular construction trailer before ordering and shop other replacement parts on our website as well.
This Deltrol Quick Exhaust Valve controls your commercial trailer's pneumatic system exhaust with the Deltrol quick exhaust valve. This valve allows your pneumatic cylinders to retract much more quickly due to its rapid expulsion of exhaust air created when the cylinder fires. Get the cost effective solution for your instantaneous air dumping needs. This valve operates effectively between a pressure range of 20 to 125 psi and uses accessible ⅜" connection ports. Eliminate the need for large selector valves ordinarily required to accommodate exhaust air moving back through the pneumatic system by installing this Deltrol valve. If you're in the market for other types of valves for your construction dump trailer, shop the valves sections of our online store before you go.
Specifications:
EV25A2
EXHAUST VALVE
QUICK
1/8 INCH
2.5 INCH
3/8 IN PORTS
FACTORY WARRANTY MAY NOT APPLY. RADWELL 2-YEAR WARRANTY INCLUDED
Alternative Part Number: DELTROL CORP 10122-70
Operating Pressure range 20 to 125 psi (1.4 to 8.6 bar)
Flow rating Inlet Co-Efficient (Cv Factor) = .50 to 5.32 Exhaust Co-Efficient (Cv Factor) = 1.0 to 7.84
Uses 3/8" ports
Manufacturer's Warranty: "Deltrol warrants that, for one year following delivery, the products manufactured by Deltrol will (a) conform to all published Deltrol specifications and (b) be free from defects in materials and workmanship. Deltrol will not be liable under any circumstances where the claimed damages result from (1) use of the products in non-fluid power applications, under extreme environmental conditions, or without proper physical protection or enclosures (if recommended by Deltrol), (2) faulty installation or incorrect connection of the products, (3) failure to maintain the products in accordance with Deltrol recommendations, including but not limited to hydraulic fluid cleanliness recommendations, (4) repair or alteration of the products by anyone other than Deltrol, (5) any abuse or neglect of the products, or (6) any accident involving the products caused by anyone other than Deltrol."
More Information

| | |
| --- | --- |
| Box Size | 6"x6"x6" |
| Country of Origin | USA |
| Finish | Matte |
| Material | Aluminum |
| Package Quantity | 1 |
| Connections | 3/8" ports |
| Duty | N/A |
| Flow C | (Cv Factor) = 1.0 to 7.84 |
| Flow Rating | N/A |
| Function | Deltrol's quick exhaust valves provide fast dumping of exhaust air at the cylinder, eliminating the need for large selector valves ordinarily required to accommodate exhaust air moving back through the pneumatic system. |
| Operating Temperature Range | N/A |
| Operation | Allows the cylinders to exhaust air pressure and let them contract closing the gates on a belly dump. |
| Power | N/A |
| Pressure | N/A |
| Product Line | Deltrol |
| Replacement Parts | N/A |
| Voltage | N/A |
We found other products you might like!